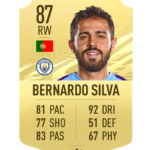 EA Sports has released the overall ratings of the 100 best players in FIFA 21, which will officially launch on Oct. 9.
This list contains the top 10 wingers (LM, RM, LW, RW) in FIFA 21. The list won't take into consideration cards that will be released for FIFA 21 Ultimate Team, where several new cards are added to the game mode every week.
Here are the 10 best wingers in FIFA 21 that you can play with in friendly matches, Career Mode, and Ultimate Team, according to the ratings released by EA Sports today.
10) Bernardo Silva (Manchester City)
Few players are as consistent as Bernardo Silva on the pitch. The Portuguese player isn't the main star on Manchester City, but he surely helps the team with his creative plays.
Bernardo Silva contributed eight goals and 10 assists during the 2019-20 season and will maintain his overall rating of 87 in FIFA 21. You can abuse skill moves when playing with the Portuguese player since his Dribbling stat is almost as high as Neymar's.
9) Son Heung-min (Tottenham Hotspur)
Tottenham Hotspur heavily depends on two players: Harry Kane and Son Heung-min. This duo helped Tottenham reach its first UEFA Champions League grand final in the 2018-2019 season and they've produced countless goals so far.
The issue with both Kane and Son are injuries, likely because they have to play every match for Tottenham. Son has been one of the best players in FIFA throughout the years because of his powerful weak foot, which allows him to score goals with both feet. In FIFA 21, he'll have the same overall rating (87) that he had in FIFA 20.
8) Jadon Sancho (Borussia Dortmund)
Jadon Sancho was one of the most desired players in the world. This has been Sancho's life since he burst onto the scene within Borussia Dortmund in 2018-19. Many clubs from the Premier League have been trying to secure the services of the 20-year-old English player since then.
It appears, though, that Sancho will keep playing for Borussia Dortmund at least for more six months since the Germans don't want to negotiate with him right now. Sancho has received a big rating upgrade (+3) when compared to FIFA 20 and will bolster an 87-rating card in FIFA 21.
7) Ángel Di María (Paris Saint-Germain)
Although Di María's career has been surrounded by injuries and inconsistency issues in past years, he still shows up in important or decisive matches for Paris Saint-Germain more than the average player.
The Argentinian is nowhere near the level he showed during his years with Real Madrid, but he's undeniably one of the most skilled soccer players of his generation. EA Sports has upgraded Di María's overall rating from FIFA 20 (86) to an 87-rating card in FIFA 21. If you like to play with Paris Saint-Germain, you'll have fun with Di María, Mbappé, and Neymar.
6) Raheem Sterling (Manchester City)
Has anybody developed as much as Sterling did under Pep…


Read More:Source link