Standing desks can be a brilliant alternative to conventional desks. With regular desks, you end up sitting for hours at a time, and it can affect your posture and cause neck, wrist, or back pain. Sitting for too long can also slow down your metabolism and contribute to diabetes and cardiovascular diseases.
Standing increases your heart rate and burns more calories than sitting. It can also reduce neck, back, and shoulder pain. Some people also have more focus when they are standing and get more immersed in their games.
The best standing desks have electric height adjustments, so you can raise or lower them as you need to. They should have enough space for your PC, monitors, and peripherals. Many standing gaming desks even have other utilities like headphone hooks and cupholders. We've made a list of the best standing PC gaming desks that can easily adjust to your preferences.
Lian-Li DK-04X
The Lian-Li DK-04 is a phenomenal gaming desk that doubles as a computer case. There's space under the massive tempered glass top to add all your PC components like the motherboard, PSU, NVMe, and everything else you need for a top-end gaming rig. It also comes with four front and rear 120mm fans and four hard drive trays. 
The build quality is incredible, with sturdy iron legs to support all the weight and a stylish gray aluminum body. The front has buttons to control the fan and RGB lighting. There are also four USB ports, including a USB-C . The tempered glass top is clear to show off the internals, but you can also press a button to darken it if you don't want to hide everything. One of the best things about this desk is that it's electronically height-adjustable, so you can use it sitting or standing.
EUREKA ERGONOMIC 65-inch Standing Gaming Computer Desk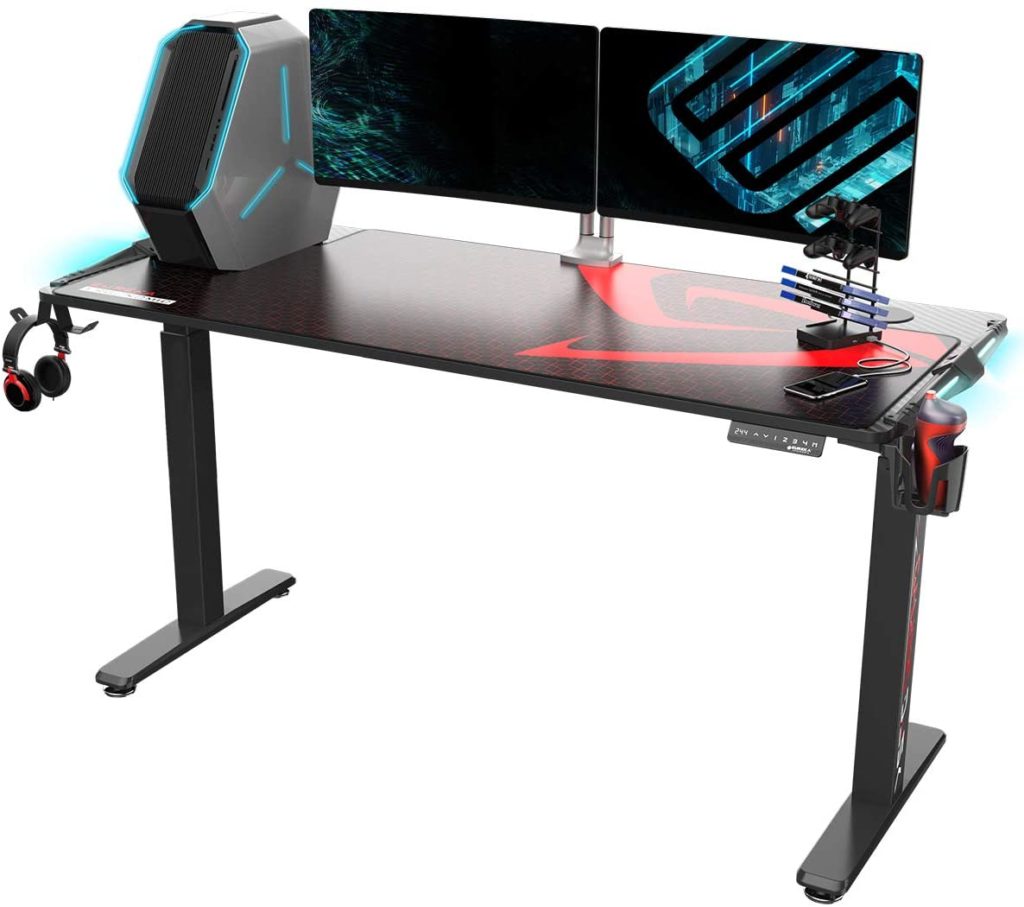 The Eureka Ergonomic 65-inch Standing Computer Desk has a vast surface area of 65 by 27 inches, so there's more than enough space for your case, monitor, and other peripherals. Eureka gaming desks have incredible functionality with four USB charging ports, a double headset hook, and a cup holder. There are also lots of accessories like keyboard trays, CPU stands, and monitor stands available so you can customize it to your needs.
The desktop has an attractive carbon fiber design that offers excellent mouse tracking for fast-paced games like Apex Legends or VALORANT. The Eureka 65-inch Ergonomic Standing desk is height-adjustable between 29.92 and 48.43 inches with four memory settings. It also has six-color RGB lighting with multiple presets like strobe lighting and shuffle. This desk has incredible all-around performance and one of the best standing gaming desks.
RESPAWN 3010 Computer Ergonomic Height Adjustable Gaming Desk
The Respawn 3010 Gaming Desk is another standing desk with great functionality. It has two levels: a large, 52.6 by…


Read More:Source link