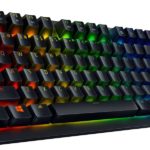 Mechanical gaming keyboards are the pillars of any decent competitive gaming setup. Though a capable gaming computer comes first, you won't be able to take advantage of your lightning-fast reflexes to rise above the competition without a mechanical gaming keyboard.
Though most gamers are accustomed to full-size keyboards since they've been the industry standard for a while now, there has been a slight shift toward smaller keyboards mainly being tenkeyless (TKL) and 60-percent options. These more compact keyboards allow gamers to gain more desk space, which they use to move their gaming mouse more freely. They also work well in small setups where there is limited desk space.
The main difference between full-size and TKL keyboards is that TKLs come without the Numpad and macro keys. Considering you'll still have access to numbers via your keyboard's top row, you should still be fine, but the absence of macro keys could be a deal-breaker for some players. If you'd like to go even smaller, 60-percent form factor keyboards get rid of the arrow keys and everything above it alongside the function keys.
If you're shopping through the best in the market, you'll need to consider what type of mechanical switches you'd like in your keyboard and check out the general layout of each brand's offering. The most popular keyboard switches on the market tend to be the blue, red, and brown switches, with reds taking the crown for being the best for gamers due to being linear and soft to the touch.
While custom made mechanical keyboards are the pinnacle of what the industry has to offer, they still cost significantly more than commercially available options. We've gathered some of the best TKL mechanical keyboards available, so you can enjoy a more roomy desk sooner and start your climb to the top of the leaderboards.
Razer Huntsman Tournament Edition Gaming Keyboard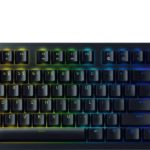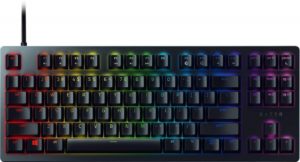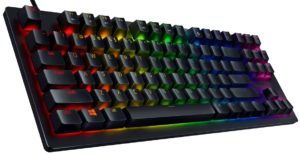 Razer's been in the gaming industry since 2005, and the product range it has is undoubtedly one of the largest ones out there. From keyboards to mouse bungees, Razer has it all, and it continues to improve upon its already successful formulas with new additions.
Razer Huntsman is on its way to dethroning Blackwidow, the company's iconic mechanical keyboard. The keyboard rocks Razer's newest optical switch technology, which uses a light beam as a way of actuation. This allows optical switches to become more responsive than any other traditional switch type on the market, making them a must-have for competitive gamers. The Huntsman Tournament Edition uses the linear edition of Razer's optical switches, which comes with a one-millimeter actuation point.
Optical switches also tend to double the lifespan of more commonly used switches. All the keys on…


Read More:Source link