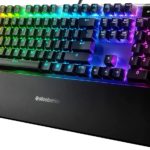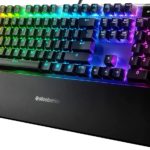 Kyle "Mongraal" Jackson is one of the most talented Fortnite players in the world. 
Though he was already known for his hyper-aggressive playstyle and his performance in Fortnite's weekly tournaments, what put him on the map was his qualification process for the Fortnite World Cup 2019. The young superstar managed to qualify four times for one of the most significant events in Fortnite.
Mongraal certainly delivered on his potential throughout the World Cup and placed sixth in duos and 13th in solos. His success landed him a top spot on the list of highest-earning Fortnite players.
Though the 2020 Fortnite World Cup was canceled due to the coronavirus pandemic, Mongraal is still on top of his game and currently ranked in the top 20 players in Europe.
While skills and training are a significant part of his success, using the best gaming peripherals both increases the quality of his stream and allows him to train with the best possible setup. If you're looking to become as good as Mongraal at Fortnite or bring your stream's quality on par with his, copying his setup can allow you to take the next step.
Here's Mongraal gaming and streaming setup.
Mouse: Logitech G402 Gaming Mouse
A decent gaming mouse is a must-have if you're looking to become competitive in Fortnite. Your mouse directly transitions your reflexes into the game, and assuring you have the lowest response time possible will give you a significant advantage over others.
Mongraal uses Logitech's G402 gaming mouse, a mouse designed for first-person shooter (FPS) gaming. The mouse features eight programmable buttons and comes with Logitech's Fusion Engine hybrid sensor. The sensor can go up to 4000 in terms of DPI and has a millisecond response time.
The mouse itself weighs 0.23 pounds (108 grams) without its cable and 0.31 (144 grams) pounds with the cable.
Though this mouse features less programmable buttons than most gaming mice on the market, using a more straightforward design for shooting games can work wonders. You'll only need a couple of macro buttons for your most essential keys anyway, and use your keyboard for the majority of your keybinds.
Mousepad: XTRFY GP2 XXL
Gaming mice can go up to over-the-top DPI values. While it's crucial for their overall accuracy, no one pushes their DPI limits, and most veteran players prefer lower sensitivity values. Lower sensitivities make tracking enemies much easier and ensure a more stable aim.
Mongraal uses XTRFY's GP2 gaming mouse pad, which measures at 47.2 x 23.6 x 0.11 inches (1200 x 600 x 3 millimeters). This mousepad allows Mongraal to have a larger movement area under his mouse, allowing him to perform almost impossible trick shots.
Even if you've only used small-to-medium-sized mousepads for your entire gaming life, investing in an XL one can be a future proof choice. Simply cut it in half and use the rest of it once…


Read More:Source link