There was a time when Fortnite was the game to beat on Twitch. Numerous developers made new battle royale titles to compete with Epic Games' cartoonish shooter.
But every time one of those games burst onto the scene, their fall was like clockwork. 
In 2018 and 2019, a few games of note were introduced into the battle royale marketplace, each with their own advantages. Call of Duty's initial attempt at the battle royale genre in the fall of 2018 had the fortune of being tied to one of the most established, successful shooter franchises in the history of gaming. Apex Legends later came along as EA's take on the battle royale genre in 2019 and its early viewership on Twitch smashed numerous records. 
For a few weeks, both games showed the potential to be the top title on Twitch. They seemingly had Fortnite on the ropes and were poised to be the most-watched game in Twitch's most popular genre.
But Fortnite has consistently been able to put those games to sleep for more than two years just by releasing new content.
Epic's ability to take a game that everyone knows and completely reshape its map, items, cosmetics, and playstyles from season to season has allowed Fortnite to be one of Twitch's most-watched games since its rise in early 2018.
Similar to how players break down buildings and use materials to rebuild the world around them from game to game, Epic isn't afraid to make drastic changes to its game's map or mechanics.
But following the release of Chapter Two, season four on Aug. 27, are Epic's strategies still working? Or is the game treading water as it fights Call of Duty's latest attempt at the battle royale genre in the form of Warzone?
Chapter Two, season four
Fortnite's latest season is filled with everything a comic book geek might want. Marvel superhero cosmetics are abundant and there are even "Mystic Weapons" that allow players to feel like a Marvel superhero in-game.
Centered around the "Nexus War," this season's theme is distinctly unique. While we've seen hero-related aspects in Fortnite before in the form of partnerships with the Avengers movies, Epic is taking the hero connection to a new level.
Peaking at around 459,000 viewers on the first day of the season, Fortnite has generated more than 42 million hours watched in the past two weeks, according to Twitch stat tracker SullyGnome. Those figures put the game behind only Just Chatting and League of Legends, which has had LEC and LCS Summer Splits being decided.
While those statistics seem impressive in a vacuum, they don't match the audience that the game has been able to reach in the past.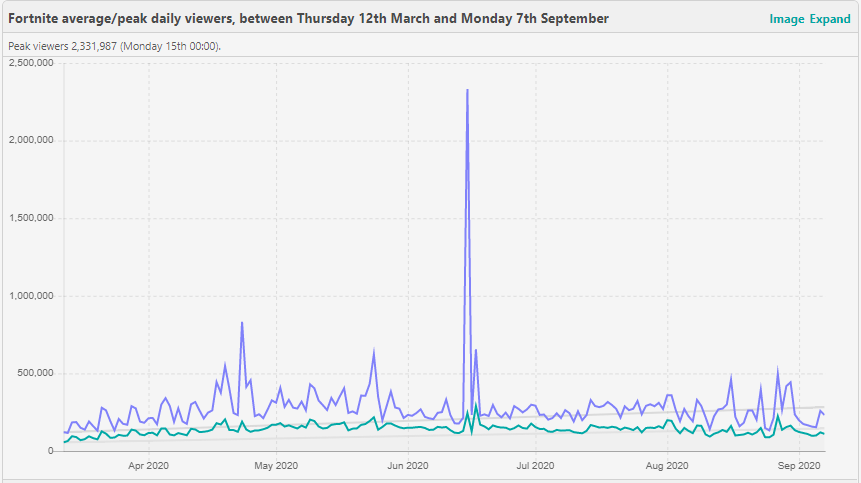 In the past year, Fortnite's viewership has beaten that mark more than a handful of times, including "The Device" event in June and the "Black Hole" event last October that eclipsed 2.3 million and 1.6 million viewers respectively on…


Read More:Source link