Enthusiast Gaming (OTCQB:ENGMF) is a company focused on the fast-growing entertainment industry associated with video games. The company hopes to ride this trend through three of its divisions, namely: Media, Events and Esports.
There are currently 2.7 billion gamers who will spend $159.3 billion on games in 2020. This figure is expected to surpass $200 billion by 2023. I believe Enthusiast Gaming is one of the best ways to take advantage of the promising entertainment and Esports opportunity that is arising due to the growing interest in video games.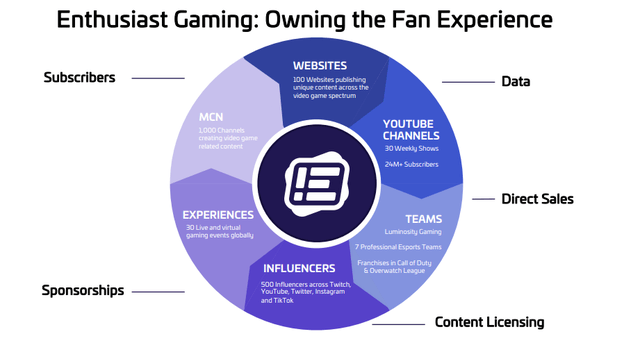 Source: Enthusiast Gaming Investor Presentation
So, what does Enthusiast Gaming currently own?
Currently, the company owns over 100 websites focusing on unique gaming content, YouTube channels with a combined 24 million+ subscribers, professional Esports teams such as Luminosity Gaming, influencers across many different social media platforms, and it was responsible for hosting live Esports events pre-COVID 19. Taken together, its platforms reach an audience of over 300 million gamers on a monthly basis. For those who know the industry, some of these influencers, YouTubers and Esports "athletes" the company works with or owns are superstars, on their way to being on par with athletes such as Lebron James in terms of reach, fan base and influence.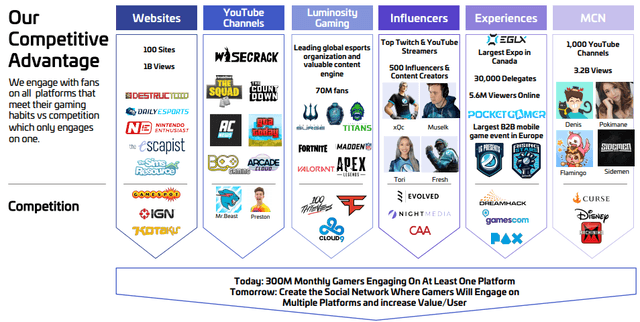 Source: Enthusiast Gaming Investor Presentation
Summary
To provide a little more insight on the demographics of Enthusiast Gaming's user base, I will provide some figures provided by company CEO Adrian Montgomery on the latest Q3 2020 conference call. 65 million of the 300 million monthly users are located in the U.S. alone. This is important because when it comes to eventual monetization, U.S. "eyes" are traditionally those that have the highest value. To illustrate how valuable U.S. visitors are, I will use Facebook's ARPU (Average Revenue per User) as an example. The ARPU for an American and Canadian in Q3 2020 was $39.63, while that of the rest of the world was only $7.89. The next highest ARPU was in Europe, at $12.41 in Q3 2020.
Furthermore, half of every American male between the age of 18 and 34 visited at least one of the platforms owned by EG. This is an important demographic, since it is one of the hardest-to-reach ones, and is one the demographics that spends the most on non-essential goods and has a larger lifetime value, since they are in the early stages of their lives. Montgomery mentions how 70% of the company's audience is either Gen Z or Millennials, with 65% of its audience spending more than 15 hours a week gaming. 67% of its platform users purchase more than 7 video games every year. Referring back to the importance of this demographic because it is hard to reach; an astounding 48% of EG's audience do not use Facebook. Altogether, the company has amassed an audience with significant potential for monetization if it…


Read More:Source link