The management of your tournament registration is a key step in the organization of your competition and its success. We explain how to manage it and take advantage of other Toornament features.
The first thing that determines your registration process is whether your tournament is played between individual players or teams. This choice is available at the first step of your tournament creation on the Toornament dashboard, where you can also define the number of participants.
By choosing teams as participants, a single person (usually the captain or manager)  will be able to register his whole team, by providing the information of all team members.
Create the registration form and collect useful data
The second step in managing your registration is to set up the form to collect the participant information necessary for the smooth running of the competition.
Toornament provides a wide choice of form fields. You can define form fields to collect information from the team and its members. It is also possible to create custom fields to collect whatever other data you would need for marketing or organization purposes.

It is strongly advised to ask participants for their in-game or platform-related accounts. This will help you ensure their identity, and their upcoming opponents will be able to contact them.

These days, it's also advised to have a Discord server to welcome your tournament participants. Discord is widespread among gamers and available on all devices. You can request your participants to provide their Discord account on your tournament registration form.
For each team and player custom field you can decide if it is required or optional, publicly visible or for admin's eyes only.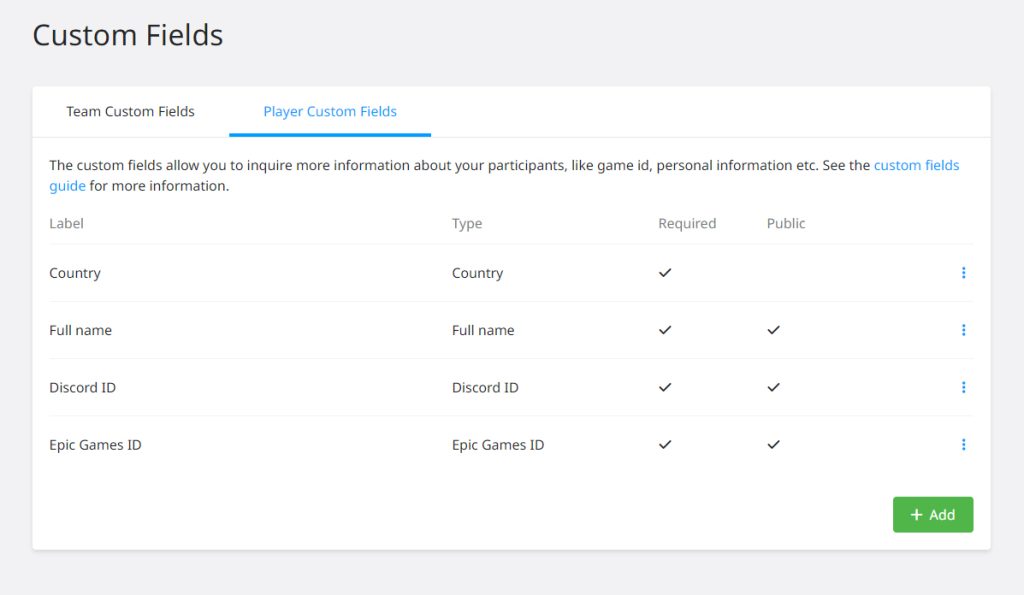 Define your registration dates
You already have the launch date of your tournament. You still have to define the date and time of the registrations opening and closing. You can open and close them manually or set the dates in advance. The time zone can be modified from your general tournament settings section.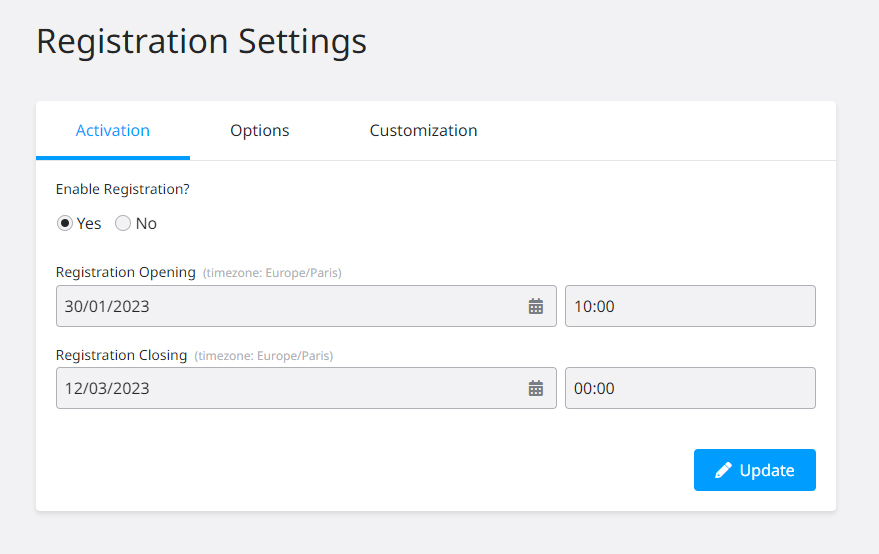 How to set these dates depends on several parameters of your organization. If the tournament is offline, it will be necessary to allow more time for the players to organize their travel and decide if they will participate. If you expect a lot of participants you will need to open your registrations well in advance to fill the tournament.

Finally, the filling of your tournament will depend on your ability to communicate with the targeted players and the interest they will have in your tournament.
The registration settings give you even more options to configure the process:
automatically accept new registrations
receive a notification email for each new registration
send a notification email to new registrants
You can also decide to send your participants on another website to register and skip the Toornament form (i.e: a Google form or with the Toornament API). You can later add them manually into your competition organized on Toornament from the "Participants" section.
Write your own notification messages
Set up your own notification messages through the Customization tab of the registration settings. These are useful to confirm a participant registration or explain why they have been refused. The 'Form Message' section lets you write the text that will accompany your registration form on your Toornament public page.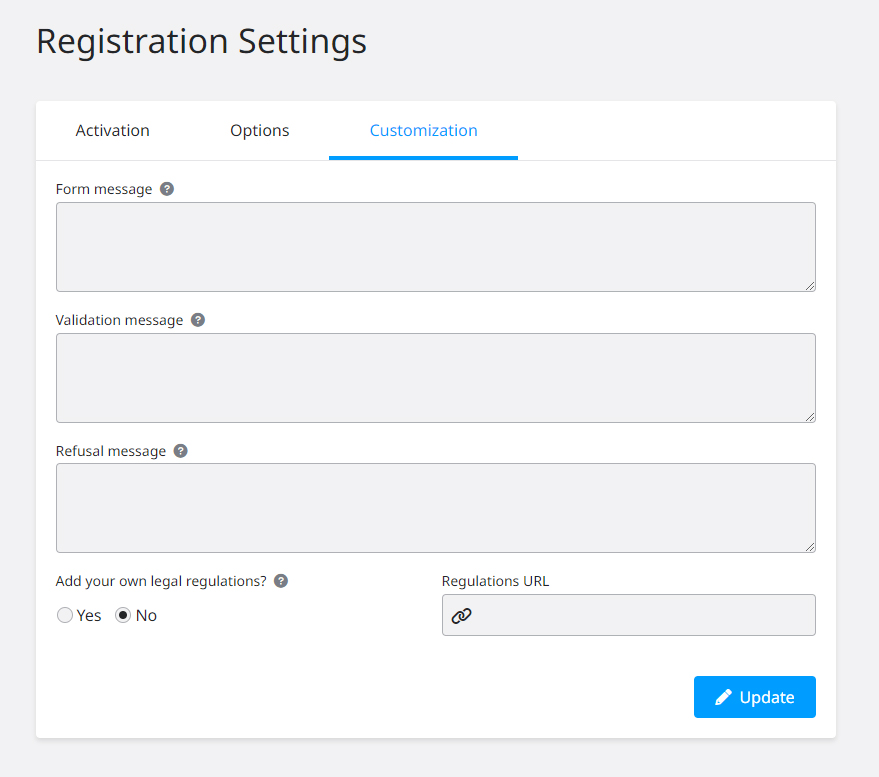 Manage the tournament registration and participant list
The registration management interface gives you the status of your tournament requests at a glance. It lets you act on the status of each participant, individually or in multiple selection.

When you have a large registration list to manage, the filter system makes it easy to find requests by status. 

You can finally consult and edit the information entered by each participant during their registration.
When you validate a participant registration, you will then find them in the Participants list of your tournament. From there, you can edit their information or add new one manually without using the registration form.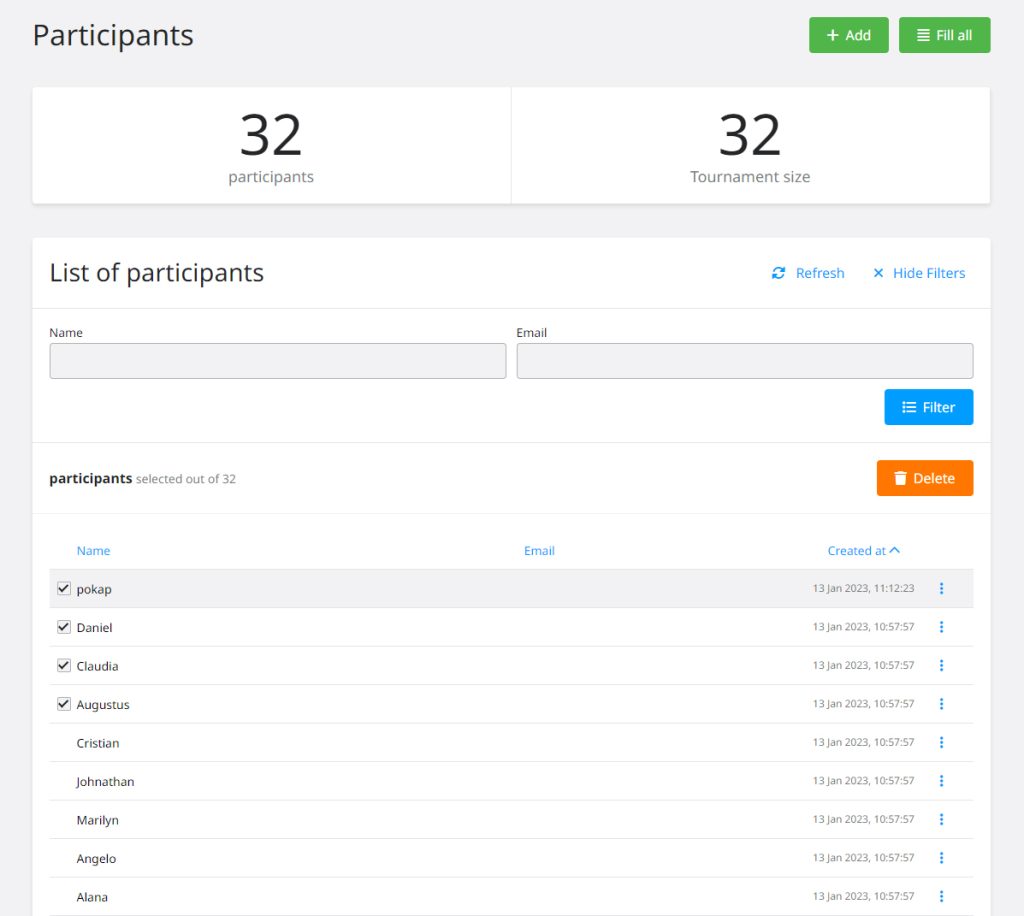 What's next?
Once you have manage your tournament registration you can move on to the participant placement step. Manual, automatic, random or with seeding? How to manage your placement will be explained in the next blog article, to be published very soon!