Toornament accompanied African company SAGES to organize the Sahel Esports Champions, a FIFA22 tournament made of multiple national qualifiers and a regional offline final in Dakar, Senegal.
The African esports ecosystem has been growing steadily for several years. More and more tournaments and their champions arise across the continent with the support of private and public partners.
The Sahel Esports Champions is one of them. The competition took place as part of "Novembre Numérique", a celebration of Digital Cultures of the French Institut around the world, and with the support of the Culture mobility fund in the Sahel. Organized by SAGES, the competition gathered hundred of FIFA players in 5 different countries: Burkina Faso, Mali, Niger, Tchad and Senegal.
The Sahel Esports Champions organizer choose Toornament to fulfill two main missions:
provide a tournament software to manage the national qualifiers and the final, both with their specific formats
showcase the competition and its results on a website in the operation branding
The FIFA tournament format
National offline qualifiers were organized in each of the 5 competing countries. The two best players from each qualifier advanced in a final held at Dakar in Senegal. In addition to the trip to Dakar, 2,000 euros came to reward the qualified players and winners of the tournament.
The FIFA tournament national qualifiers were played in a 1v1 format. The particularity of the final is that the two qualified players in each country are united to form a team. Then, each team represented their country and faced the others in the final in Dakar.
While the qualifiers were played with a classic combo of round-robin followed by a single elimination bracket, the final used a more unusual stage format:
a round robin with the 5 teams playing each other
a gauntlet bracket with the 5 teams
The gauntlet bracket is a single elimination bracket in which there is a single match per round. Teams are seeded up to the final match from the get go according to the group stage results. Thus, the first stage is used as a seeding methods of the teams, to then place them in the second stage.
The competition website
To release its official website effectively, the Sahel Esports Champions organizer used the website builder feature of Toornament. They needed the tool to meet the following expectations:
display the FIFA tournament information and results in compliance with the operation branding
highlight their partners and sponsors
make the competition accessible from their own domain name
having the qualifiers and final results automatically updated from the Toornament organizer software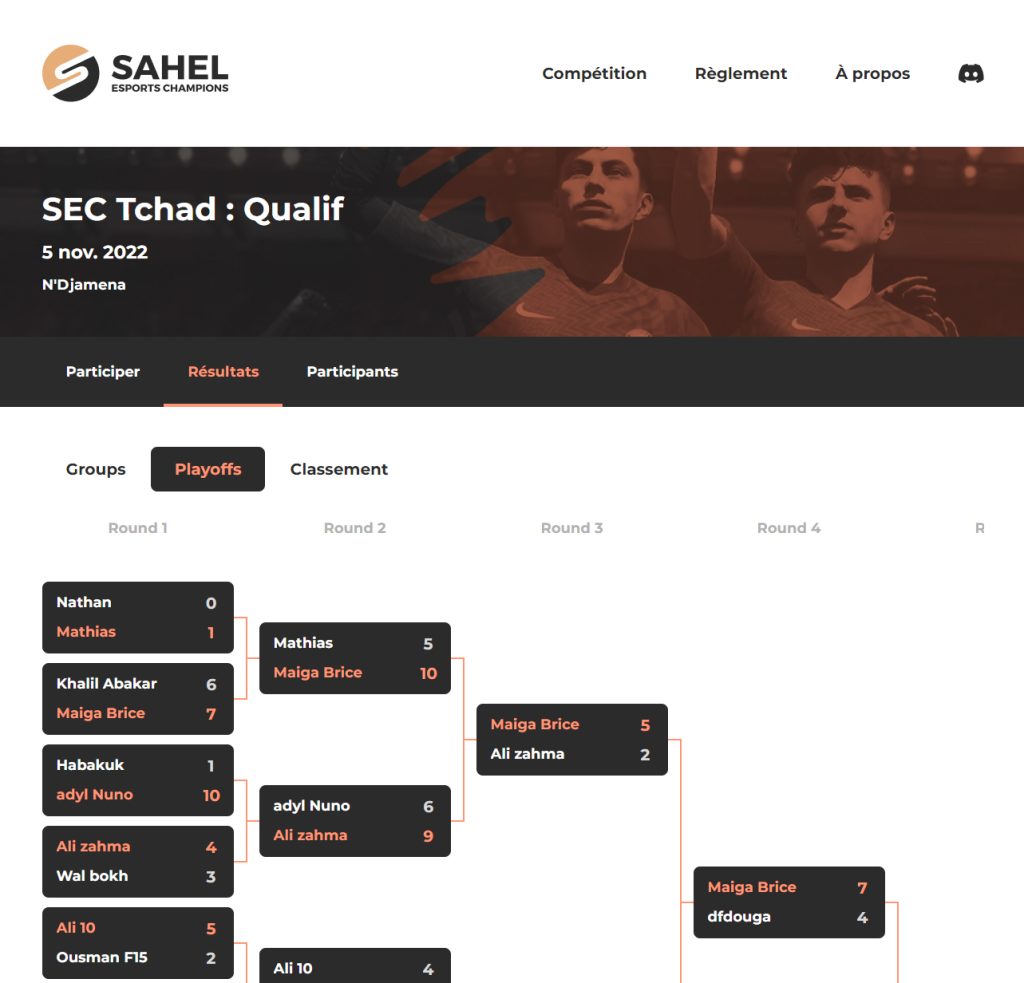 You can visit the Sahel Esports Champions website at https://sahel.esportschampions.africa/.
Toornament would like to thank the SAGES team for their trust in helping them organize the competition.