Power failures or voltage problems can play havoc with computer equipment. A sudden loss of power can cause corrupt files or a loss of unsaved work. It can also cause physical damage to your components that may cost a lot to fix.
An uninterruptable power supply (UPS) ensures that you can continue working seamlessly if the power fails, and gives you time to shut down. They also offer protection against voltage problems like surges and spikes that can damage your equipment. There are many UPS systems on the market to suit various needs and budgets.
Here are some of the best uninterruptible power supplies available in 2020.
APC Back-UPS BE600M1 600VA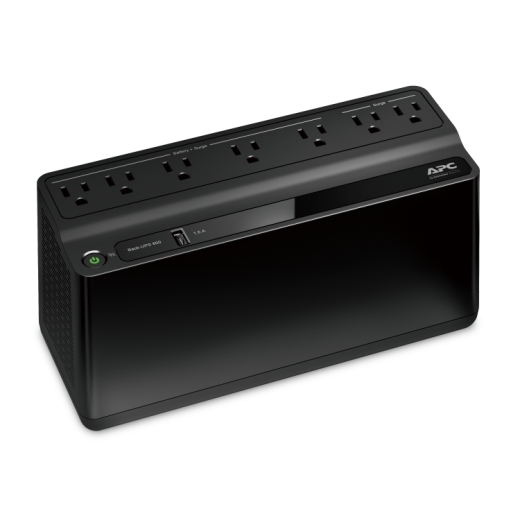 APC is one of the most respected names in the UPS world with products to suit individual and business needs. The BE600M1 is a small UPS that offers basic protection for your devices without costing a fortune. 
This UPS has a 600VA/330W power supply, which is enough to run a few smaller devices like laptops, routers, or desktops for a few minutes if the lights go out. It comes with a total of seven outlets, including five UPS backup with surge protection, and two with surge protection only. There's also one USB charging port for tablets and mobile phones. The BE600M1 is excellent for home use if you don't want to spend too much.
The Vertiv Liebert GXT5 sits on the opposite end of the USB spectrum compared to the APC BE600M1. It has a much larger capacity of 1000VA/1000W and can work in professional environments. The large, thin design makes it perfect for rack mounting, and it can also function as a standalone device. 
If you want to use the GTX5 for your business, you can add the optional network adapter to allow remote monitoring and configuration. The app enables you to monitor up to 100 units to get real-time readings like status faults. You won't have to worry about space because there are five individually programmable power outlets, and you can easily monitor what's happening on the LCD. The Vertiv Leibert GXT5 1000 VA is excellent for home and business use and offers outstanding protection.
The Tripp Lite smart UPS is an affordable way to get 1000VA/500W of backup output than the Vertiv Liebert GXT5. It may come at a low price, but Tripp Lite has so much confidence in their product that they include up to $250,000 worth of insurance. If any of your equipment gets damaged by a surge, Tripp Lite will repair or replace it for free.
The UPS comes with eight outlets, four connected to the battery, and the other four surge-protected only. It also has a long, six-foot cord and an LCD screen that displays battery status, power status, and additional information. This UPS is a great all-round performer and even includes telephone and ethernet protection. 
The CyberPower CP1500AVRLCD offers an exceptional balance of price to performance….


Read More:Source link